---
Úvod > Ponuka > Študijné pobyty a stáže v zahraničí > ERASMUS + stáže >
---
ŠP staze v hoteloch ANIMAFEST
Dear Mr. /Ms. Internship Coordinator,
We would like to offer the opportunity for your students to do the internship in different departments of our hotels. We are a platform; we help students all around the world. Your Students can do the Internship in more than 450 hotels. We cooperate with 1800 Tourism and Gastronomy universities and schools worldwide. We offer internships in the field of the Hospitality sector. Registration is free of charge as well as equipment for the entire registration. Your Students can choose from our Internship positions (Restaurant, Bar, Kitchen, Reception, Public Relations, and Animation).





Our services are totally FREE.
We offer for your students:
Free accommodation
Free meals
40 hours per week, 1-2 days off depending on the Hotel
Most of the Internships are paid (scholarship is approximately 300 € per month)
Duration of the internship is between 3 - 6 months
Hotels with 3, 4, 5 stars in the most popular touristic destinations.
Important documents for the realization of an Internship:

Students will see everything on the personal page.

There they can put the important information like CV, Photo etc.
How to register:
Students have to sign in on our website http://www.animafestexperience.com/signin.php
We'll make an Interview with Students in which we consider their skills and assign them an internship
We'll select them in our Hotels into Bar, Restaurant, Reception, Kitchen or Public Relations
Students have to upload all the documents required
Then is the Internship successful
You can see everything about Students and their Internships in our panel control
We offer an advice on documentation, agreements, insurance, etc and also access to our 24 hours online platform to contact the Animafest office in order to assist you. When you are interested don't be hesitate to contact us.

http://www.animafestexperience.com/universities Access Schools and Universities Control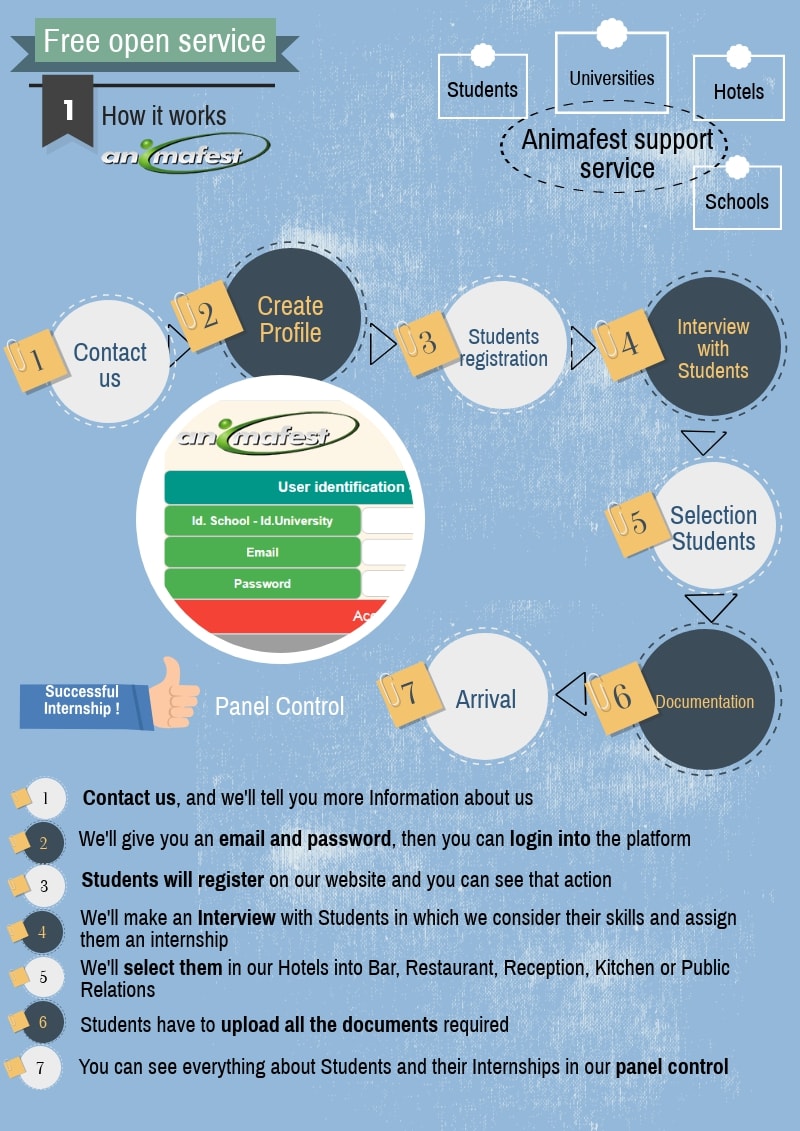 We are looking forward to our further cooperation between us and arrange a presentation

Could you send us one marketing@internships-spain.com incase you have students interested?

Sincerely

ANIMAFEST OFFICE
Hotels & Resorts
www.animafestexperience.com

Office available at + 34 93 765 39 69
from 09, 00 h to 18, 00 h
---
Za obsah zodpovedá: Prodekanka pre medzinárodné vzťahy | Dátum aktualizácie: 27. 9. 2018 | Aktualizoval: Prašovská Jana
---
© 2016 Ekonomická fakulta UMB, Tajovského 10, 975 90 Banská Bystrica
www.ef.umb.sk, +421 48 446 2111